Plate heat exchanger parts and service
Your trusted plate heat exchanger service provider
You can trust Alfa Laval technicians to repair and recondition your gasketed plate heat exchangers. 11 service centres and over 100 service manpower in South East Asia local service centers are outfitted with the equipment and expertise to optimize the performance of your gasketed plate heat exchangers.
Heat exchanger reconditioning and repair services
Two of the most common reasons for decreased efficiency in heat exchangers are old gaskets that cause external leakage and deposits such as scaling, which lower the heat transfer and eventually clog the channels. By reconditioning your heat exchanger, you can solve these problems.
At Alfa Laval's well-equipped service centers, our experienced technicians remove gaskets and scaling with specialized tools and chemicals. This prevents corrosion and creates an ideal surface for re-gasketing – without you having to handle the chemicals or waste. In addition, we thoroughly examine your heat exchangers, correcting any sealing problems or deformities. These services ensure your equipment continues to deliver high efficiency and optimal performance.
Plate heat exchanger frame repair service includes inspection, refurbishment, replacement of connection linings, and replacement of bolts or other frame parts. While reconditioning plates must take place at one of our service centers, some frame repairs can be performed onsite.
Reconditioning procedure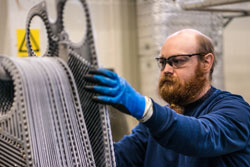 Pre-cleaning inspection
Upon arriving at the service center, your heat exchanger plates are examined for major corrosion, erosion and deformities. Our technicians will determine whether the plates should be reconditioned or replaced.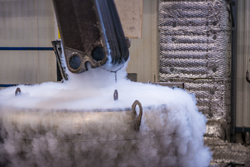 Gasket removal
We use an efficient, yet gentle, method to remove the gaskets using liquid nitrogen, which completely removes the gasket while leaving the groove intact, preventing plate damage. Some field methods of removing gaskets, including using propane torches or rotating wire brushes, can severely harm the plates.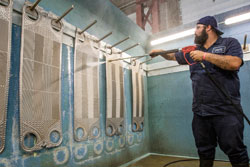 Hydrojet cleaning
The heat exchanger plates are initially cleaned with water to remove residue.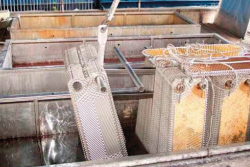 Chemical cleaning
The plates are immersed in specially formulated chemical baths, whose concentration and temperature are carefully regulated for the gentle removal of deposits.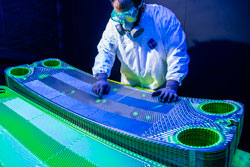 Crack and deformity detection
Each plate is sprayed with dye and then carefully inspected under UV light to find even the smallest defects.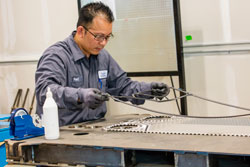 Regasketing
We carefully regasket the plates using a strong cured glue, GC6, a superior heat cured adhesive, which is far superior to the rubber based contact cement used by other service providers.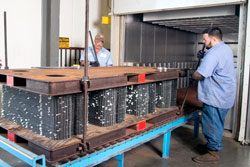 Oven-cured gasketing
The plates are then placed in a curing skid and baked in an oven for 3-5 hours under compression.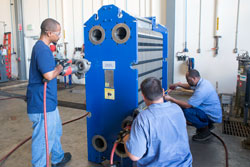 Pressure testing
When the heat exchanger is reassembled, a full hydrostatic pressure test is performed to ensure there is no leakage.
Reconditioning report
Finally, you'll receive a detailed heat exchanger service report, including the procedure documentation and recommendations based on your results.
Plate heat exchanger upgrades
Increase the performance of your gasketed plate heat exchangers to meet growing process requirements with our equipment upgrade services.
If you already have an Alfa Laval gasketed plate heat exchanger, you may be able to replace your current plates with our next-generation plate pack to take full advantage of new plate features.
Learn more about upgrade options
You may also like to explore