Installation Supervision for Aalborg boilers
To perform correctly from the start, your Alfa Laval Aalborg boiler or waste heat recovery system should be installed according to guidelines and best practices. Based on many years of experience, an Alfa Laval supervisor can provide clear guidance that speeds up and safeguards the installation process. This saves money by avoiding corrections at start-up and beyond.
We provide support and guidance to your crew or the yard during the installation of Aalborg boilers and waste heat recovery systems. Our specialists supervise the positioning, physical connections and setup to ensure the equipment is installed according to Alfa Laval recommendations.
Supervision is available anywhere in the world, depending on the size and complexity of the installation. Smaller or non-essential jobs can be handled en route or in port, while those requiring more planning can be handled alongside or in dry dock.
Leaflet
Installation Supervision for boilers
24/7 service and support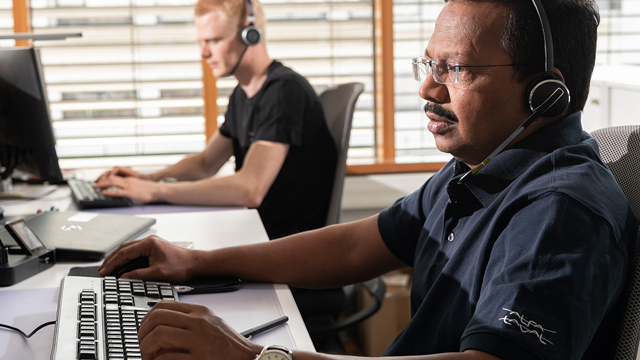 Contact us anywhere, anytime:


+46 4636 7700
E-mail: marine.service@alfalaval.com
Benefits
Reduced costs for the installation work
Easier and better planning of budget and logistics
Flexible service
Correct installation of equipment and easy commissioning
Peace of mind
Scope of supply
Alfa Laval can supervise the installation of the following boilers and waste heat recovery (WHR) systems:
Alfa Laval Aalborg steam boilers
Alfa Laval Aalborg thermal oil boilers
Alfa Laval Aalborg WHR-GT economizers
Alfa Laval Aalborg WHR economizers (after auxiliary engines)
Aalborg Vaerft, Aalborg boilers (AV, AQ, etc.)
Supervision is offered in the following installation scenarios:
During voyage
Installation en route (for non-essential equipment only) offers potential savings by avoiding vessel off-hire.
Dry dock
Dry dock stays are ideal for larger planned installations that involve construction changes in the vessel.
Alongside
Larger planned installations can be conducted alongside to avoid shipyard costs.
Port stays
Smaller jobs and planned equipment changes can be handled during shorter stays in port.
Scope of service
Installation supervision
An Alfa Laval supervisor observes the installation and provides knowledge support to those performing it.
This ensures correct:
- Positioning and fixation of the equipment
- Alignment and level check of the equipment
- Installation of system piping
- Electrical wiring
Commissioning
Once the installation is completed, a skilled Alfa Laval service engineer commissions the plant on board.
This includes:
- Control of installation and alarm point setting
- Commissioning and start-up
Other 360° Service Portfolio services for your equipment
Alfa Laval Installation for Aalborg boilers
Alfa Laval Cleaning Services for Aalborg boilers
Alfa Laval Replacement for Aalborg boilers
Alfa Laval Retrofit for Aalborg boilers – waste heat recovery