Alfa Laval pumps are essential to hygienic process efficiency, performance and safety. Which is why we've made it easy to ensure you get the most uptime from your pumps used across the dairy, food, beverage, home-personal care or pharma industries. Our services are a responsible choice, designed to save time and money while safeguarding operations and the environment. Get peace of mind from a broad range of services and unmatched product and application knowledge from Alfa Laval experts that optimize pump performance.

Technical documentation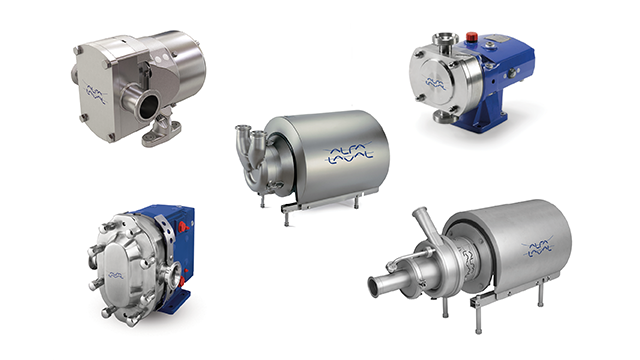 Maintenance guidelines
Investing in service before breakdowns occur makes good financial sense. Using Alfa Laval genuine spare parts ensures that existing certificates remain valid while using Alfa Laval service kits and service tools makes maintenance easy. With easy-to-follow service schedules and exploded views of each pump, the Alfa Laval Preventive Maintenance Guidelines give you a visual roadmap to maximize productivity and minimize maintenance costs.
The easy way to manage your pumps
Use My Alfa Laval, an online tool that makes it easy to take care of your Alfa Laval pumps. Simply enter the serial number of your pump to access useful information – from product leaflets and instruction manuals to service videos and other important documents. Not sure where to find the serial number? Look on the name plate of your pump. Depending on manufacturing date, it may be listed as serial number, SN#, or similar. More information on all Alfa Laval hygienic pumps will be coming your way soon!
Sustainable Optimization
Protecting the environment while supporting your business. That is our commitment to our customers. We pledge to help customers achieve their sustainability goals through process optimization – higher efficiency, reduced emissions and less waste, increased recovery of valuable resources and by-products and more raw material, energy, water and savings. Good for people. Good for the planet. Good for business.
CAD drawings
Need drawings of Alfa Laval hygienic pumps? Download them here – either as native or neutral CAD file formats or as 3-D PDF files.
Spare parts
Keep it real. Genuine Alfa Laval spare parts keep your equipment running at peak performance throughout its lifetime. The right part at the right time prevents unscheduled downtime. And honestly, wouldn't you rather have more uptime?
Training
Uptime depends on expertise. Make sure you and your colleagues know how to get the most out of your Alfa Laval pumps. Effective training will give you a broad understanding of how to maximize uptime of your Alfa Laval systems while reducing your environmental impact and total cost of ownership.
Ten Top Tips
Quick! Name 10 things to make your Alfa Laval equipment run like clockwork. Give up? These Alfa Laval checklists help you maximize equipment reliability and uptime.
Application & Innovation Centre
Discover the world of pure innovation. Here you can work with Alfa Laval experts to optimize fluid handling at your plant using your own application and Alfa Laval hygienic equipment. What better way to optimize, quantify, verify and validate your processes. Join us – either in person or by live link – to discover how the latest advances in pump technology can optimize your fluid handling processes and boost yield, hygienic safety, and your sustainability profile.
Talk to a service expert
Reach out to Alfa Laval whenever you need service or support. Wherever in the world you are, we're there too. Field service engineers from a local Alfa Laval service centre or one of our authorized service partners can provide the service your need 24/7. Contact us by phone or email.

Find us here and choose location