Repair for Aalborg boilers
After years of wear and tear, the performance of boiler and waste heat recovery systems can degrade enough to impair operations or cause unplanned shutdowns. Alfa Laval Repair for boilers restores your equipment to good-as-new condition and can even be used to extend boiler life. It can be a more cost-effective option than buying new parts, or in the worst case buying and installing a new boiler.
Alfa Laval can perform boiler repair on a scheduled or emergency basis, including during your vessel's normal operation. The work can be done in port, at a shipyard or at sea, where it is carried out according to class rules and your specifications.
Alfa Laval has served the boiler industry for a century, working with all aspects of boiler design, manufacturing, inspection and service. Combining this comprehensive experience with technology from today's boiler programme, we can repair and upgrade all types and brands of boiler and waste heat recovery equipment.
Alfa Laval uses high-quality components that ensure lasting plant uptime. Parts and replacements are fabricated in Alfa Laval's own workshops by highly experienced boilermakers and qualified welders. Class-approved materials, plates and tubes are kept either in stock or readily available.
Original documentation is available for all boiler plants manufactured by Alfa Laval, as well those from licensee holders. If required, complete and class-approved service documentation can be provided after service completion.
Leaflet
Alfa Laval Repair for Aalborg boilers
24/7 service and support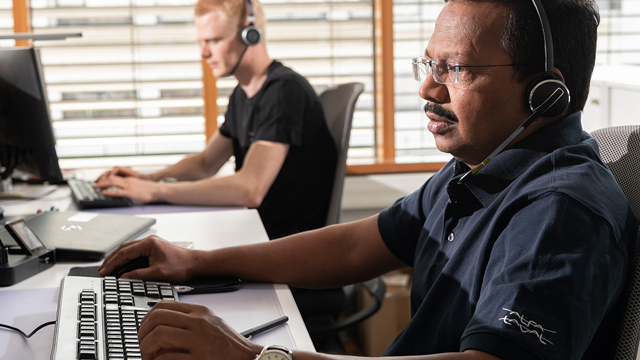 Contact us anywhere, anytime:


+46 4636 7700
E-mail: marine.service@alfalaval.com
Benefits
Repair wherever and whenever needed - in port or during voyage
Reduced risk of expensive breakdowns or even off-hire
Minimized downtime
No delays due to class approval
Right the first time - problems are solved correctly as well as quickly
Scope of service
Condition Audit/inspection
Inspection performed before any major repair to assess wear and identify the causes of poor performance
Partial repair/life extension
As recommended after inspection or based on your specifications, typically including:
- Replacement of plate, pipes, other boiler parts, casing, refractory and insulation
- Delivery/installation of boiler equipment
- Redesign of any type or make of boiler to fit your requirements
Full repair/replacement
Comprehensive service including:
- Complete boiler retubing
- New/replacement boiler supplied according to your requirements
- Replacement of Alfa Laval Aalborg boilers based on original boiler design drawings
Scope of supply
In-house design, drawings, engineering and documentation
In-house manufacturing and global supply chain management
All class approval aspects
Global project management, logistics and coordination
Full repair management
Other 360° Service Portfolio services for your equipment
Alfa Laval Condition Audit for Aalborg boilers
Alfa Laval Performance Audit for Aalborg boilers
Alfa Laval Troubleshooting for Aalborg boilers
Alfa Laval Spare parts for Aalborg boilers