Maximize starch production uptime with the Alfa Laval Self-cleaning strainer (SCS). The strainer effectively removes oversized material, such as agglomerated starch, pipeline scale and other solids, to prevent blockage of the nozzles of separators, starch washing cyclonettes, and corn gluten dewatering vacuum filter spray bars. This contributes to trouble-free operation, prevents costly downtime, and improves the overall efficiency of your starch processes.
Self-cleaning strainer maximizes starch process uptime and minimizes equipment downtime
Reliable, continuous operation due to simple, rugged, and easy-to-maintain design
High volumetric capacity (up to 250 m3/h) at low pressure losses
Short delivery times due to availability of selected spare parts
Brushes, gaskets, and O-rings made of food-grade polymers
Optional discharge valve actuator for automatic operation
The Alfa Laval Self-cleaning strainer promotes reliable, continuous operation of starch processing lines by removing oversized material, such as agglomerated starch and pipeline scale, from
High-speed separator discharge nozzles, thereby preventing vibration
Cyclonette feed, overflow, and underflow nozzles in a starch washing systems, ensuring unimpeded flow
Spray bar nozzles, safeguarding the proper function and cleaning of the filter cloth on corn gluten dewatering vacuum filters
Available in three sizes, the self-cleaning strainers are capable of handling flow rates of approximately 0–45 m3/h (SCS50), 45–110 m3/h (SCS100), and 110–250 m3/h (SCS150).
Food system services
Alfa Laval Food system services help extend the performance of your food systems by maximizing the performance of your processes. This enables you to:
Continually improve your operations to maintain competitive advantage
Focus on uptime, optimization and availability
Maximize return on investment throughout the life cycle of your food systems

Industry and applications
Applications
The Alfa Laval Self-cleaning strainer effectively removes oversized material from:
starch suspensions fed into nozzle centrifuges
starch suspensions fed into starch washing systems
spent starch wash water used as wash water in Merco® primary separators
light gluten used as filter cloth wash water for corn gluten dewatering vacuum drum filters
Easy to install, operate and maintain
With its simple, rugged design, the Alfa Laval Self-cleaning strainer (SCS) is easy to install, operate and maintain. It can be installed either directly inline (SCS50), mounted on a stainless-steel supporting frame, or bolted with support brackets to a steel structure (SCS100 and SCS150). For automated operation, an optional actuator is available for the discharge valve. The self-cleaning effect ensures low maintenance.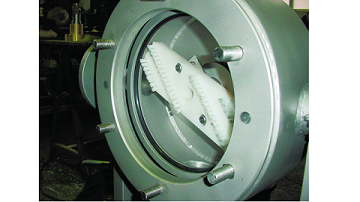 The Alfa Laval Self-cleaning strainer SCS50 consists of a housing, a screen with a back-up plate, and a cleaning device with brush block run by a gear motor.
The Alfa Laval Self-cleaning strainer SCS100 and SCS150 has a swing shaft for the motor, housing cover, a drive shaft with snap-coupling, and guiding rod for quick opening during maintenance.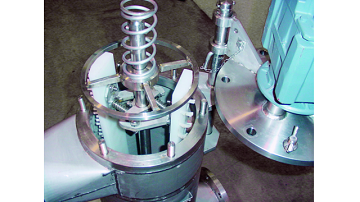 How do self-cleaning strainers work
The Self-cleaning strainer has brushes that rotate slowly to ensure continuous movement of the retained oversized particles, thereby preventing particles from plugging or blinding the screen. This ensures smooth and unhampered flow of starch suspensions and wash water through the strainer. The accumulated oversized particles are removed through intermittent discharge.