Alfa Laval supplies a broad range of heating, cooling and fluid cleaning solutions for the metalworking industry. Whatever the metal working process, whatever the service fluid, accurate temperature control and efficient cleaning are essential in order to ensure end-product quality.
Cooling/Heating and cleaning solutions
With extensive know-how in the metalworking field and core technologies such as high-speed centrifugal separation and heat transfer, we have developed cutting-edge solutions that enable you to clean, heat or cool your service fluids efficiently, cutting your operating costs and increasing your profit margin.
Alfa Laval 360° Service Portfolio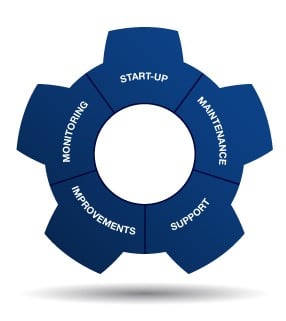 To keep your equipment in top working condition, Alfa Laval offers a comprehensive portfolio of services.
Contact us to find out how we can extend the performance of your products.
Downloads
Consultant? System integrator?
Are you a consultant? Look here! With expertise from decades of experience in heat exchange, Alfa Laval offers knowledgeable resources for today's heating and cooling challenges. Discover answers to complex questions on everything from energy efficiency to natural refrigerants, along with helpful tools that make it simpler to find the right technology for your application.