A staggering 49% of the world's energy consumption is related to indoor climate ­– heating, cooling and tap water heating. Alfa Laval's energy-efficient heating solutions can use recycled or renewable energy to cut energy consumption and reduce reliance on fossil fuels.
Ready for tomorrow's energy sources
Modern district and community heating systems offer great flexibility for selecting energy sources. Switching from one energy source to another can be done without adjustment or changing equipment in the houses or apartments in the network. The systems are also ready to use new energy sources that may emerge in the future.
Waste is a resource for heating
Alfa Laval solutions are a key part of heating systems that can utilise alternative energies as heating sources. A district or community heating network can be integrated with local recycling energy sources, such as industrial surplus heat, waste incineration and biomass. Renewable energies such as geothermal or solar thermal energy are also potential energy sources.
Driving the future in HVAC
Alfa Laval 360° Service Portfolio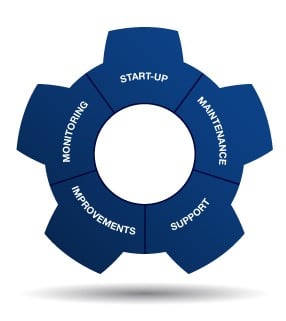 To keep your equipment in top working condition, Alfa Laval offers a comprehensive portfolio of services.
Contact us to find out how we can extend the performance of your products.